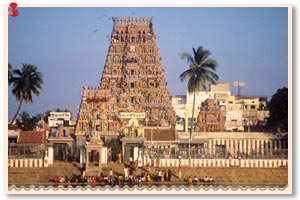 The bustling metropolis of Chennai, like any other big cities of the world, is on a fast track of growth and expansion. In all the pandemonium that is associated with city life, the serene and divine places like temples provide a safe sanctuary to briefly get away from the chaos. If you want to pay a visit to temple then you need not look too far. Chennai is dotted with innumerable temples that offer safe haven for those who want to take some time off, offer prayer to the deities or simply adore the beauty of the holy place. This sprawling metropolis has both, ancient as well as new temples. Interestingly, some of the old temples were built as far back as 800 AD and the neighbourhoods in which they are located in still identify them with their original names. These temples, especially the old ones, have rich mythology, sculptural splendour, and ancient tradition of festivals that still attracts thousands of devotees. Exploring these temples will give you the whiff of the rich culture and heritage of the Hindu religion that has existed for millennia.
Faith is a very powerful feeling that helps us to prevail over many difficulties of life and nowhere will faith be so palpable than visiting these temples. Even visiting on a regular day when no festival or occasions are observed, you might be taken aback to see thousands of devotees thronging and worshipping the gods for blessings. Visiting these temples is sure to invigorate your faith whereby you bow to the great omnipresent divinity and have respect for the culture. Let's have a quick glance of temples of Chennai city.
Parathasarathy Temple
Parthasarathy means 'charioteer of Arjuna', this temple is where Lord Krishna is worshipped. It is among the the 108 divyadesams or holy abodes of Lord Vishnu.
Time:
Morning 6.30 a.m. to 1.00 p.m, Evening: 3.00 p.m to 8.00 p.m Triplicane, Chennai
Kapaleeswarar Temple
This 7th century temple is for Goddess Karpagambal or 'Goddess of the Wish-Yielding Tree'. The goddess is one of the forms of Parvati, Lord Shiva's wife.
Time:
Morning: 6.00 a.m. to 1.00 p.m. Evening: 4.00 p.m. to 8.00 p.m Mylapore, Chennai
Sri Vadapalani Andavar Temple
This ancient temple is dedicated to Lord Muruga. Renovated in 1920s, the temple has grown into popularity due to the visits by many cinema stars.
Time:
Morning: 6.00 a.m. to 1.00 p.m. Evening: 3.00 p.m. to 8.30 p.m Vadapalani, Chennai.
Ashtalakshmi Temple
The temple is dedicated to Lakshmi, the consort of Vishnu. Astha signifies the number eight and eight forms of Lakshmi are worshipped in the Ashtalalakshmi temple.
Time:
Morning: 9.30 a.m. to 12.30 p.m. Evening: 4.00 p.m. to 8.30 p.m Elliots Beach, Besant Nagar, Chennai.
Mangadu Kamakshiamman Temple
This temple is dedicated to The Divine Mother Shakti as Kamakshi Amman.
Time:
Morning: 6.00 a.m. to 1.00 p.m. Evening: 3.00 p.m. to 8.00 p.m Mangadu, Chennai
Kaligambal Temple
Dedicated to Kalikambal (Kamakshi) and Kamateswarar, this temple was originally located close to sea shore but was relocated in 1640 AD. The great Maratha ruler Shivaji came in the temple to worship on 3rd October, 1667.
Time:
Morning: 6.00 a.m. to 1.00 p.m. Evening: 3.00 p.m. to 8.00 p.m Thambu Chetty Street, Chennai-1.
Adeeswar Temple
Also known as Vada Sabari, this temple is the exact replica of Sabari Malai, Kerala where Lord Iyyappa is worshiped.
Raja Annamalaipuram, Chennai-28
Ayyappan Temple
This is the first temple dedicated to lord Ayyappan in Chennai city. The temple also houses Lord Vinayakar and Lord Subramanian with his consorts Valli and Devayani constituted the Parivarams.
Madhavan Nair Street, Mahalingapuram, Nungambakkam, Chennai-34
Thirumalai Thirupathi Devasthanam Temple
Millions of devotees throng this world renowned temple of Lord Venkatachalapathi. Located on the seventh peak of Venkata Hill called Venkatachala of the Tirumala Hillocks, the temple lies on the southern banks of Sri Swami Pushkaarini.
Time:
Morning: 6.00 a.m. to 1.00 p.m. Evening: 3.00 p.m. to 8.00 p.m Venkata Narayana Road, T.Nagar, Chennai-17.
Shirdi Sai Baba Temple
Built in the memory of the revered saint Sai Baba of Shirdi, this temple is among the two shrines dedicated in Sai Baba's name in the city.
Time:
Morning: 6.00 a.m. to 1.00 p.m. Evening: 3.00 p.m. to 8.00 p.m Venkatesa Agraharam, Mylapore, Chennai-4.
Mathyakailash Temple
Also known as Nadukailai, this temple is amongst the most visited in Chennai. Lord Ganesha sits right in the centre of Parameshwar, Ambikai and Thirumal.
Time:
Morning: 5.30 a.m. to 12.00 p.m. Evening: 4.00 p.m. to 8.00 p.m Sardar Patel Road, Adyar, Chennai-20.
Marutheeswarar Temple
This temple is believed to have been built in 11th century and is dedicated to Lord Shiva. It is believed that the temple was also visited by Saint Valmiki, who authored the Hindu epic Ramayana.
Time:
Morning: 6.00 a.m. to 1.00 p.m. Evening: 3.00 p.m. to 8.00 p.m Thiruvanmiyur, Chennai-41.
Thiruneermalai Vishnu Temple
Dedicated to Lord Vishnu, the Thiruneermalai Vishnu Temple is one of the 108 places considered sacred by Vaishnatives. Legend has it that sage Valmiki prayed in the temple and saw the divine darshan of Lord Vishnu in three forms.
Thiruneermalai, Chennai.
Vedagiriswarar Temple
Popularly known as Kazhugu Koil or 'the eagle temple', the main attraction here is the large temple located atop the mountain which houses the deity of Vedagiriswarar, Lord Shiva.
Thirukkalukundram, Chennai.
Anjaneyaswami Temple
This temple is very famous because of the deep veneration shown for Lord Hanuman. One amazing fact about this temple is the 32 feet idol of Anjaneyar that is moulded out of a single rock.
Nanganallur, Chennai-61.
Kandaswamy Temple
Vadapalani Temple