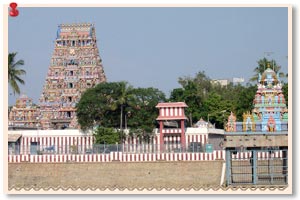 The peaceful Kapaleeswarar Temple of Chennai is believed to be one of the oldest and most revered holy places of the city. The shrine of Lord Shiva, Kapaleeswarar temple is situated in Mylapore, a suburb of Chennai. The temple is an emblem of Dravidian style of architecture with giant gopuram (tower). The temple has two entrances. Its fragmentary inscriptions exist since 1250 AD, though the architecture and structure of the temple is more related with the culture that prevailed in 16th century, when Vijay Nagar kings refurbished it. As per the tradition, Goddess Karpagambal is offered a garland made of gold coins named kaasu maala on the ritual of Friday worship.
The wife of Lord Shiva, Goddess Parvati is worshipped in the temple in the incarnation of Goddess Karpagambal, which refers to the 'Goddess of the Wish-Yielding Tree'. There is a godly story behind the name 'Mylapore' as according to the Puranas, the divine Shakti offered her devotion to Lord Shiva in the form of a peacock. In Tamil, peacock is called as 'mayil'. Hence, the area surrounding temple was developed with the name Mylai. The original deity of the temple is placed at Kanchi (Mel-Chitamoor) near Tiruttani. The temple also features a number of Vahanas, Sanskrit word for 'Vehicles', such as the bull, adhikaranandi, elephant, bandicoot, peacock, goat, and parrot along with a golden chariot which is a recent tradition seen in the temple.
Though the clear picture about who built the temple is not known, it is commonly believed that the temple was originally built by Pallavas in the seventh century CE due to its reference in the hymns of the Nayanmars; however, the architecture of the temple seems to be just 300-400 years old. The scholars have concluded that the original temple was built at the seashore in 7th century by Pallavas and was destroyed by Portuguese. The temple existing today about 1 km far from the shore was built by Vijay Nagar kings during 16th century.
The notable feature of this structure is the 37-meter tall gopuram, overpowering the street on which the temple sits. As you enter the temple you can view a sculpture of a holy saint known as Gnanasambandar. Other than this, you can see the bronze carvings of the 63-Shaivate saints, which are carried on the eighth day of the 10-days long procession during the Aruvathumoovar festival, which is held in March-April. In the courtyard of the temple there is a holy Punnai tree, which is one of the oldest trees of Chennai city.