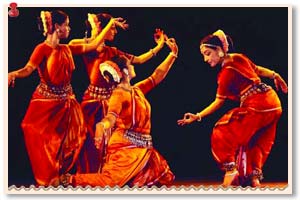 India, the land of cultures, traditions and diversity has yet another facet of its varying nature hidden in Chennai, the Gateway of South. The hustling and bustling metropolitan city, swirling on the tunes of daily activities, Chennai, has a marvellous traditional culture marked by commemoration of several festivals and fairs. An integral part of the socio-cultural feasts of Chennai, these festivals provide respite from the humdrum of the city and are looked forward to, by both the residents as well as the tourists. Besides, these fairs and festivals are a mirror of the social and religious lives and beliefs of the people of South India. To know more about the fragranced traditions of Chennai, experience the splendour of these fairs and festivals by reading
Natyanjali Dance Festival
The 'Cosmic Dancer' Lord Nataraja is paid special tribute, every year, on the tremendous occasion of Natyanjali Festival held in Chidambaram, near the city of Chennai. The five day long festival falls in the months of February-March and is the magnificent to attend. Click on the link to know more about the famous dance festival of Tamil Nadu.
Dance and Music Festival
The South Indian Classical form of music, known as the Carnatic Music and the classical dance of Chennai are adored in this festival. The Dance and Music festival of Chennai, famous as 'Margazhi Festival of Dance and Music' is held during mid December to mid January at various places in the city and attracts a host of performing art enthusiasts. Click on the above link to know more about this splendid festival.
Travel and Tourism Fair
Every year, the Tamil Nadu Tourism Development Corporation organises Tourism Fair at Islands Ground to promote rich cultural heritage, Tamil economy and tourists' spots. The festival celebrated during January, the month conferring pleasant vacation from humidity and hotness provides an excellent opportunity for people to enjoy as well as gain information. Have a quick walk to the above link to know more about the festival.
Pongal
Pongal, the harvest festival of South India, known as an Indian version of western 'thanksgiving' festival, is one of the major festivals celebrated in the Chennai city of India. Commemorated in the month of January, the festival marks the end of the traditional farming season and represents reverence for the new beginning. Click here to know more about this four days long bravura festival.
Other Festivals
Chennai, the capital city of Tamil Nadu celebrates several other festivals with full fun and fervour. These festivals include Arubathimoovar, Mamallapuram, Chitthirai, Mahamagam, Kanthuri, Velankanni, Nav-Ratri and Saral-Vizha and many others.