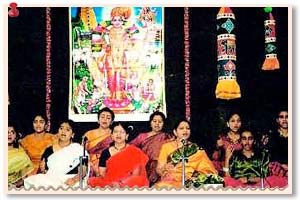 South Indian classical music in the form of Carnatic Music along with the traditional dance form of Tamil Nadu, Bharatnatyam, confers mystical divinity to the land of Chennai. The Dance and Music Festival, commonly known as the 'Margazhi Festival of Dance and Music' commemorates the spirit long treasured by Carnatic music and traditional dance forms. The birth of the festival dates back to 1927 when it was first celebrated in order to rejoice the first anniversary of Madras Music Academy. Sooner, the concept was picked by many other organisations too which were responsible for organising art festivals in different parts of the city.
The Dance and Music festival is celebrated in Margazhi month of Tamil calendar which coincides with the time duration of mid December to mid January. The festivity of the Carnatic Music and classical dance is idolized at various places in the capital city Chennai and attracts a host of performing art enthusiasts. Taking into consideration the indigenous belief of revering the Almighty through musical rhymes and mystical dance steps, the festival is performed at several fascinating venues like venerated temple complexes, heritage bungalows and renowned auditoriums.
The month-long festival showcasing the art and talent of famous artists across India is also famously known as the 'December Season', particularly amongst the expatriate Indians and scholars, who come from across the globe to attend and witness the stunning moments of the festival. Over time, the festival has become greatly popular, gathering about 2,000 participants in more than 300 concerts in its duration, honouring the spirit of the festivity.
The festival holds great importance, as Carnatic music is considered the best medium to pay homage to the Gods. This makes the festival a blend of both melody and divinity. The extravaganza displays the performances of vocal and instrumental musicians, along with dancers, both solo and group, belonging to the genres of junior and senior artistes. The festival confers an opportunity before junior artists to illustrate their ability, sharing the platform with their senior counterparts of the field. The performances primarily swivel around the songs of Tamil, Telugu and Kannada languages, demonstrating the magic of the instruments like Flute, Veena, Goottuvadyam, Nagaswaram, Thavil, Mridangam, and Ghatam.
By the end of Margazhi month of Tamil calendar, as the time to bid adieu to the Dance and Music Festival comes, the focus is shifted from the Dance and Music Festival to the Thyagaraja Music Festival or Thyagaraja Aradhana Festival, celebrated in Tiruvaiyaru, near Tanjore. The festival is an opportunity to revere the birth of Thyagaraja, who was one of the greatest composers of Carnatic music and was counted among the trinity of music. The celebration takes place at the Samadhi (burial place) near the banks of River Cauvery.