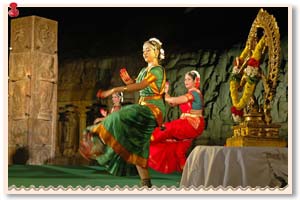 The best aspect of Indian culture lies in the fact that in India, most of the arts, activities and celebrations are oriented towards spirituality, dutifulness and righteousness. Take an example of the art of dancing: while the western culture associates it with fun and fervour, Indian culture considers it a way of cherishing and pleasing the Almighty. A Number of festivals confirm this fact! One of such festival is Natyanjali Festival, exclusively celebrated in Tamil Nadu.
Natyanjali Festival is held every year at Chidambaram, near Chennai. The festival is primarily related with veneration of Lord Shiva, also known as the Lord Natraj. The Lord is often characterised as the 'Cosmic Dancer' and also as the 'Lord of Dances'. The festival, embraced with dance and dedication for God, is a 5 days long celebration which begins at the advent of the grand fest of Maha Shivratri, in the months of February or March. The festival has a fixed place where each year the celebration takes place. This venue for performing the rituals of this grand festival is equally special for its importance in Chennai traditions and history. It is the 'Prakara' of the Chidambaram Temple, the revered location, where the festival is commemorated each year.
The Chidambaram temple, about thousands years old, serves as an awe-inspiring backdrop for the occasion. The splendour of the temple, and that of the Natyanjali Utsav, is inexpressible and can only be felt by witnessing the festival. The gold roofed temple, with pillars depicting Lord Nataraja in 108 postures of Bharatnatyam, the classical dance of Tamil Nadu, presents a truly divine setting, perfect for the occasion.
The festival is a joint effort of the Department of Tourism - Government of Tamil Nadu, Ministry of Tourism - Government of India and Natyanjali Trust - Chidambaram. It serves as a platform for dancers from all over India to exhibit their talent and pay tribute to the Lord accumulating prominent performers to cherish the great divinity of Lord Nataraja. The performers too are elated by the opportunity of dancing in the vicinity of the sanctum of Lord Shiva and take it in high regard. The festival spreads the message of 'Unity in Diversity', which is subsequently conveyed by the universal language of dance and music. It serves the twin purpose of educating as well as entertaining the audience.
If you want to become an eye-witness to the glorious celebration of the festival, do not think much. Just pack your bags and visit Chidambaram to see the special confluence of spirituality and the creative art of dance. Do not worry about the way to reach the place as the city is very well-connected to all the major cities like Thanjavur, Pondicherry, Madurai and Chennai. To get into the city via air, the nearest airport is at Trichy. Take any of the modes of commutation and come to the Chidambaram Temple and return home with some ever-memorable memories with you.