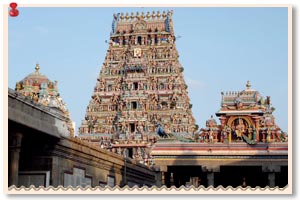 To add some variety to your journey to South India, do visit the Parthasarathy temple in Chennai where an entirely different experience would be waiting for you, openheartedly. Though most of the features in the temples built in the yore are more or less same, the Parthasarathy Temple has some striking features that make it superior over many of its counterparts. Situated at Tiruvallikkeni or British version, Triplicane in Chennai, the temple is an oldest and distinguished structure of the city. It was originally built by Pallavas in the 8th century and later renovated by Vijayanagar kings in 11th century. It was King Narsimhavarman I who led the foundation of this temple. The temple and the region derive their name from the holy tank in its vicinity which consists of five sacred wells, the water whose is considered to be more pious than that of holy river Ganges.
This Hindu Vaishnavite temple Parthasarathy is primarily dedicated to Lord Krishna, an incarnation of Lord Vishnu, and is counted among the 108 divyadesams or sacred abodes of Lord Vishnu. The name of the temple 'Parthasarathy' is a Sanskrit word referring to the 'charioteer of Arjuna'. Thus, Lord Krishna is worshipped in this temple for his role as the charioteer of Arjuna during the grand battle of Kauravas and Pandavas in the great epic 'Mahabharata'. As per the epic, Arjuna or Partha was a brave warrior and one of the Pandavas to whom Lord Krishna escorted from time to time as a good friend, philosopher and guide.
Though the Parthasarathy temple is devoted to the various incarnations of Lord Vishnu, the main deity remains 'Lord Krishna'. The deity of the Uthsavar Lord Parthasarathy shows injuries all over His face due to the arrows of Bhishma in the battle of Mahabharata, where he played the role of charioteer of Arjuna. The temple also has shrines of Lord Narasimha or Thelliya Singhar, Shri Yoga Narasimha, Lord Gajendra Varadar, Lord Rama as Lord Chakravarthi Thirumagan, Lord Ranganatha, Goddess Vedavalli Thayar, great Tamil savant Aandal and a shrine solely dedicated to the families of Lord Venkatakrishna and Lord Chakravarthi Thirumagan, depicting family ties. You will find, on a visit to the temple, that the shrines of Lord Parthaswamy and that of Lord Narsimha has different doorways.
Also, the other exquisite feature of this Parthasarathy temple is the coloured Rajagopurams. The then ruler Thondaman Chakravarthi first built these gopurams in eastern as well as in the western sides. These gopurams reflect the pyramidical top as seen in the other ancient temples of Chennai. The towers (gopurams) and pillars (mandaps) reflect essence of the standard South Indian Temple Architecture with their decoration and sophisticated carving. The temple administration has painted these gopurams recently during Samprokshanam in 2004 and 2005 and has also beautified them with the decorative serial lamps. Interestingly, the temple has some stone inscriptions, reflecting a direct relation of Pallavas and Vijaynagar kings with the temple.