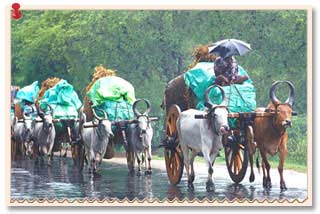 Chennai, the capital city of Tamil Nadu, is located at the Coromandel Coast of the Bay of Bengal. Due to its location near equator, Chennai experiences hot and humid all the three major seasons – summers, winters and monsoons – of the year. Thankfully, due to its vicinity to the coastal area, it does not experience extreme variations in seasonal temperature.
Detailing the weather of Chennai, estimating it for different months, we find there are slight variations, though the underlining warmness does not fade in any month. The summer season, beginning from March and spreading till October, has scorching days. Talking about the hottest months, the duration of late May to early June records the highest temperature with mercury dwelling almost always near the mark of 45
o
C. This duration is known by the natives of Chennai as the Agni Natshatram, literally 'Fire Star', or as Kathin Veyyil. The scorching heat of the sun is nearly unbearable during this period, restricting you to your abode. In contrast, the places near the sea coast remain warm and humid. The cool breeze during the night time provides some respite to the residents from the high temperature endured during daytime.
During the monsoons, which means during the months of June to September, Chennai receives ample rainfall. The prevailing winds of Chennai are the South-westerly winds, influencing the climate from April to October while the North-easterly winds affect the climate during rest of the year. The rain showers are a delight, as they wash away the heat of the otherwise hot climate. People rejoicing in the rain with and without umbrellas in their hands are a common sight. Moreover, as the city is located near the sea side; it receives moderate rainfall of about 140 cm throughout the year. The highest rainfall of the city was seen in the year 2005 recording 257 cm average annual rainfall. Due to its vicinity to the Bay of Bengal, sometimes, cyclones too hit the city.
The winters are very short lived in Chennai. They occur during the months of November to February with January being the coolest month of the year. This is the most pleasant time of the year, best suited to visit the city. The temperature of the city varies from 15
o
C to 22
o
C . January is the coolest month of the year Chennai. Winters too receive moderate rainfall, making the weather pleasurable and comfortable to roam around. The seasonal rainfall, resulting from the north-east monsoon winds, is experienced during mid-October to mid-December. Do not forget to pack an umbrella with you on the trip to Chennai during these days. Pack light coloured cotton clothes for summers as well as winters.