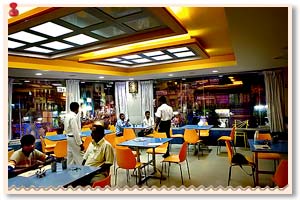 The way to one's heart is through gratifying one's appetite! Isn't it true that the visit to any place gets more delightful and lively right after we explore the local food stuff? Chennai, the gateway to South and the capital city of Tamil Nadu, luckily has number of eating points specialised in several cuisines, especially in South Indian dishes to make your visit an ever-memorable one. Let your taste buds relish the taste and aroma of South Indian cuisine at a food point in Chennai while you also go crazy with many multi cuisine food joints in the city, serving food according to your taste and preference. These eating places will serve as good choices to help you feel at home. There are many famous and well-known restaurants in the lap of Chennai which are a pleasure to visit time and again and whose quality of food and taste are not only down South, but are also admired in other parts of the country. Some of the popular food joints in Chennai are given below.
Saravana Bhavan
Saravana Bhavan is one of the finest South Indian restaurants in Chennai, offering the real flavour of Sambhar. Its food is a sheer treat for your senses. To add to the experience, the prices are absolutely to fit into your wallet, giving you the opportunity to willingly order some of the specials on the menu. A must visit restaurant!
Karaikudi
Karaikudi is another famous restaurant in Chennai and is popular for Chettinadu cuisine. The decor is dedicated to the traditional ethics of the state, with waiters dressed in Panchakacham (Dhoti, tucked in behind, in five folds). The entrance is flanked by two brass pots, as in any Chettinadu bungalow. Therefore, it has become one of the most visited restaurants in the city. It serves both veg. and non-veg. mouth watering dishes.
Komala's
Komala's serves traditional South Indian cuisine, in a fast food joint ambience. However, the decor is pleasant, with melodious tunes of music playing in the background. There is also facility of a play room for kids.
Anjappar
Established in 1964 and pioneer in bringing famous Chettinad food to the taste buds of the Chennai's visitors, Anjappar has expanded significantly via its 25 outlets, easily accessible throughout the city. Its fresh food with secret home ground recipes will make you joyous and the culinary traditions and ambience of the restaurants would lure you time and again.
Benjarong
It's the restaurant coloured in five colours of Thai, as the word literally means 'five colours' in Thai. The restaurant scented with traditional motif, warm earth tones and Thai artworks on its interior is the best place to feel the time-honoured Thai culture and delicious food.
Other Restaurants