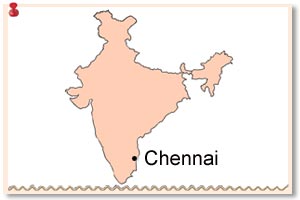 Chennai, one of the four metropolitan cities, is located on the South Eastern coast of India in North Eastern part of the Indian state of Tamil Nadu. Its geographical coordinates is 13°04'N latitude and 80°17'E longitude. An urban city, it is located along the shorelines of Coromandel Coast, with the gorgeous Marina beach adorning its beauty. Interestingly, it is also the second longest urban beach in the world, running for 6 km. The average elevation of the city is 6.7 metres while the highest point in the city is at 60 m. The two rivers flowing through Chennai, the Cooum which flows through the centre and the Adyar River to the south, are linked by the Buckingham Canal which runs parallel to the coast. While the third river, the Kortalaiyar, flows through the outside boundary of the city before draining into the sea of Ennore. Besides these, there are many lakes of different sizes located on the western fringes of the city.
Primarily, the city is divided into four broad regions: North, Central, South and West. The North Chennai is an industrial area and Central Chennai is the commercial heart of the city and also a significant business district, Parry's Corner. Earlier residential places, South Chennai and West Chennai, are becoming a commercial hub of the city at a rapid pace with growth of a number of information technology firms, financial companies and call centres. There is also a rapid expansion along the Old Mahabalipuram Road and the Grand Southern Trunk Road (GST Road) in the south toward Ambattur, Koyamedu and Sriperumbdur in the west. It is one of the few cities in the world that has a National park within its limits: the Guindy National Park. The city is divided into five Takukas for administrative purposes namely Egmore-Nungambakam, Fort Tondiarpet, Mambalam Guindy, Mylapore-Triplivane and Perambur-Purasawalkkam. The Metropolitan area of Chennai consists of three districts namely Chennai city and the districts of Kanchipuram and Thiruvallur. The city occupies a total area of 426 square kilometres.
Mahabalipuram in the south, Chengalpattu and Maraimalai Nagar in the southwest, and Kanchipuram, Sriperumpudur, Tiruvallur and Arakkonam to the west are some of the contiguous satellite towns of the city. The city has a tropical climate, specifically a tropical wet and dry climate. It lies on the thermal equator and is also on the coast which prevents extreme variation in seasonal temperature. The weather in the land is hot and humid throughout the year. The Gateway to South India, Chennai is fast becoming a hub for tourists, a beautiful place where past and present coexists peacefully.