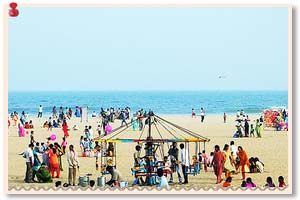 Chennai is situated on the south east coast of India and lies in the tropical zone of climate. The combination of these two makes its weather extremely hot and humid. Often, in peak summers, the temperature goes as high as 45 °C during day, and resting around 25 °C during the night. On an average, the temperature in Chennai ranges around 28 °C. However, because of ample rainfall which it experiences every year, helps maintain a somewhat pleasant climate throughout the year. By now, you might have got an idea that winter season, in particular, from November to February, is the best time to visit the city and cherish the endowments it holds. The weather at this time remains enjoyable as well as fulfilling for the visitors and residents alike.
Winters too, bring with them the occasional rainfall which eventually makes the trip even more memorable and joyous. During daytime, the cool breeze from the sea provides respite from the otherwise warm weather. If you are worried about loading your bags with heavy woollen cloths to cope with winters, you do not really need to think about them as the temperature in Chennai does not go below 20 °C, even during winters. However, you need to pack a few things like raincoat and an umbrella to shield yourself, just in case it rains.
The winter season also brings festivity to Chennai, attending which would be a unique experience. The main festival of Chennai, Pongal, is celebrated in the city with much fun and fervour at the advent of spring, bidding adieu to winters. The four days long celebrations of this harvest festival includes decorating cattle, processions, and embracing the yard with colourful Rangolis. In December, the city hosts a traditional music festival in which prominent musicians of Chennai perform the matchless Carnatic Music, the famous classical form of music from South India. So, come and explore the city at its best, amidst the cool and pleasurable weather of the winter season.
Best Time To Visit:
November to February