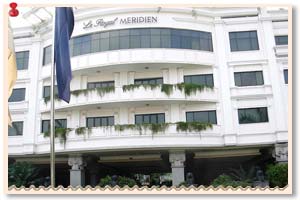 Chennai, the city making the golden triangle of South India, is one of the magnificent endowments the pious land of India has ever had. The metropolis and capital city of Tamil Nadu welcomes thousands of people every day who come here to experience its serene beauty, spread across the shores of Bay of Bengal. The city has seen a long glorious past: from being a mere fishing village to the major hub of the country and serves its tourists with a number of attractions. For your visit to the city as a tourist, it offers a number of options for your stay, ranging from 5 star luxurious hotels and heritage hotels to budgeted guest houses and lodges, catering to the large number of visitors from varying economic groups. Some of these elegant, economic and comfortable hotels are listed below. Have a look!
Hotels in Chennai
Luxury Hotels
Chennai has number of luxurious 5-star and 5-star deluxe hotels to make your trip to Chennai ever-memorable. Few of them are:
Le Royal Meridien
It is a five star deluxe hotel which boasts of the largest pillar-less ballroom in Chennai, with a capacity of 1200 people. It has a multi-cuisine restaurant, an Indian restaurant, a seafood restaurant, a bar and a night club, spirit. Not far away from the airport, it has a large parking area and landscaped gardens.
Radisson GRT Hotel
It is a yet another hotel which completely sweeps off your feet. It has a garden café, with a live band playing in the evening, a golden kebab factory, an English polo club ambience in dining room and round-the-clock tea Lounge.
Taj Connemara Hotel
It is the premier five star hotel of Chennai, located at a distance of just 20 minutes from the airport. It is the ideal choice for a business traveller, with a plush décor and colonial architectural style suites. Besides, it has a chettinad restaurant, 24 hour coffee shop, a classy bar and a fitness centre.
Taj Coromandel
This hotel is ideal for business purposes, as it caters to all the conference/banquet needs. It also has the widest culinary range and the finest restaurants.
Welcome Group Chola Sheraton
It is an international standard hotel with a multi-cuisine restaurant, café, barbeque, bar, sports café and an exclusive night club. It also has facilities for video conferences and banquets.
Taj Fisherman's Cove
An impressive Dutch Fort in past, the hotel is embraced with 88 luxury cottages, and three restaurants. The hotel is just a 50 minute drive from airport and it will take hardly 75 minutes from railway station to get here. The well-organised rooms of the hotel provide you with beautiful view of beaches, sea and the landscaped gardens.
Trident Hilton Chennai
Giving you benefit of location of standing in the vicinity of airport as well as close to the new business centre of Sriperumbudur, Maraimalainagar and Guindy Industrial Estate, Trident Hotel is another best option to pick for accommodation in Chennai.
Heritage Hotels in Chennai
If want your vacations to be wrapped in true Indian aroma dipped in the unique combination of the culture, comfort and spirituality, heritage hotels are the best to stay in.
Hotel Sterling Swamimalai
Staying in the lap of nature at the banks of River Cauvery would be a heavenly experience! Spend your holidays in the Sterling Swamimalai and feel the sense of Indian culture, traditions, fine arts and spirituality to the highest extent.
Green Meadows Resort
The heritage hotel, just three kilometres far from the Tidel Park, the largest software park in Asia, is a tremendous hotel spread over an area of 15,000 sq ft. The resort offers you picturesque beauty of the natural beaches, while its natural ambience will energise you greatly.
Budget Hotels in Chennai
Here is the comprehensive list of the budget hotels available at reasonable price in Chennai. So, stop worrying about small pocket, pack your bags and head towards Chennai where the most enchanting travelling experience is waiting for you!
Hotel Mars
Ahoka
Abu Palace
Ambika Empire
Days Inn Shan
Ganga International
King's Park
Liberty Park
Nest International
President
Quality Inn Mgm
Regent
The Residency
Windsor Park
Palmgrove Chennai
Hotel Zen Garden
Hotel Brownstar
Sudha Inn
Nilgiris Nest
Hotel Sree Krishna
L R Swami Hotels
MGM Eastwoods Resort
Hotel Maris
Goldmine Hotels
Lodges
A large number of lodges help you enjoy your leisure in Chennai without concerning much about the pocket size. Have a look over the exhaustive list of the best lodges in Chennai.
Bava Lodge (E. V. R Periyar High Road)
Bethel Lodge (Wallajah Road)
Bhagyam Lodge (Sunkurama Chetty St)
Club India Resorts Pvt Ltd (Ceebros Centre)
Dayal De Lodge (Pantheon Road)
Golden Sum Beach Resort (Caravaneeswarar Kest)
Hotel Jayanth Lodge (Thatha Muthiappan Street)
Jothi Lodge (Anna Salai)
K. R. P. Mansion (Anna Salai)
Lakshmi Mohan Lodge (Egmore)
Nathan's House Lodge (T. Nagar)
Jai Sankar Lodge (Walltax)
J K Mansion (T. Nagar)
I S Lodge (Barracks Road)
Vasantham (Pallavaram)