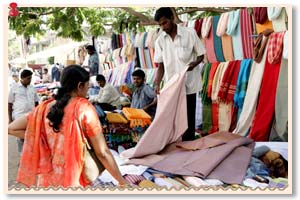 Chennai, being one of the metropolitan cities of India and important commercial destinations in South India, has a lot to offer to the tourists who come here. So, if you are a shopaholic then you don't need to worry at all, for there is a lot in store for you in the lanes of this ethnic city. From traditional shops selling items like pattamara mats, leaf handicrafts from Tirunellveli, bronze and brass castings and traditional jewellery from Kumbakonam, metal works from Tanjavur and stone carvings from Mamallapuram and silks from Kanchipuram to sophisticated malls, Chennai doesn't disappoint its visitors when it comes to shopping. Plus the growing competition between the shop keepers and the mall owners has proved to be a boon for the buyers. So if you like to shop, there are places in Chennai, which will make you shop till you drop. Some of the top shopping destinations in Chennai are:
Pondy Bazaar
Pondy bazaar, located in T.Nagar, is an important commercial hub in Chennai. The bazaar has many things to offer like elegant footwear, leather bags, crockery, toys, costume, jewellery, cotton garments, stationary, music accessories etc. It is one of the liveliest places in Chennai and an ideal place to end the holidays with shopping.
Anna Salai (Mount Road)
Formerly known as Mount Road, the Anna Salai is a major road in Chennai. This famous road has many large stores lined up covering an area of almost 8 km. From jewellery to south Indian delicacies, this road has what you want.
Panagal Park
The shops are concentrated on South Usman Road and Ranganathan Street. Famous for jewellery, one can also find silk saris in this area.
T- Nagar
The T-Nagar or Thyagaraya Nagar provides some of the best shopping centres, business establishments, accommodation providers and other commercial enterprises. The buyers can shop for garments, jewellery, electronic products, and toys, which are largely available here.
Anna Nagar
Located in Western Chennai, Anna Nagar is one of the best shopping destinations. The area offers shopping of expensive items and branded stuffs.
George Town
It is one of the crowded market areas of the city and a well known area for shopping. The Burma Bazaar is one of the shopping areas in the town. There are some fine things which you can buy like the pure mulberry silk which is a speciality of Tamil Nadu. The saris of Kanchipuram, a temple town, are famous for their lustre and dazzling hue. The shops will offer a large variety of options to choose.
Egmore
Egmore is an upmarket shopping area containing tourist destinations and great shopping areas: shopping plazas and local departmental stores. It is also one of the important commercial centres of Chennai and a place for dedicated to the shopaholics.
Mylapore
The place is known for classical dance shopping. One can find costumes, jewellery and other dance accessories near the Kapaleeswarar temple. Silk from Kanchipuram is also available in the prominent areas of Mylapore. There are a number of retails shops of handicrafts, traditional items and fashion accessories etc.
There are several malls in the city like the Express Avenue in Royapettah High Road, Spencer plaza at Anna Salai, Chennai Citi Center. Shop your heart out and cherish your memories with the souvenirs which you have brought with you.
Gifts to Chennai
Surprise your loved ones with a unique gift.
Diwali Gifts to Chennai
You can send some wonderful Diwali gifts to Chennai, such as dry fruits, gift hampers, gadgets, vouchers, apparel, sweets, home furnishings, chocolates, jewelry, Puja Thali gifts etc