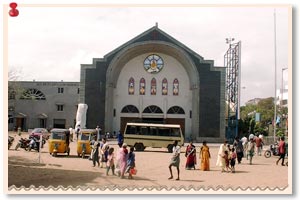 The picture of a person's mind when he is travelling to a particular place for the first time is quite different from the person who had already toured the place. It is a general assumption that these both persons have different mental perspective. If you are visiting a place for the second time then the motive is just to relax, have fun and bring about some change from the regular daily routine life. But when you are visiting a place for the first time then you will be always curious to know about the lifestyle, culture, and socio-political life of both the past and the present of that particular place. One such place, filled to the core with history and culture, is Velankanni Church in Chennai.
Velankanni Church, also called as the 'Mecca of the Christians', is one of the beautiful churches located at Eliot's beach in Besant Nagar. The principal shrine of this Velankanni church is Mother Mary and she is also prayed and worshipped by the people as the Lady of Health. And though, it is known as the 'Mecca of Christians' people of all different castes crowd in the feet of the Virgin Mary to receive her blessings.
The sight of Velankanni church is stunning with its sky-reaching towers. There is an interesting tradition, which the believers of the Lady of Health follow. The person who is diseased offers his body part in the form of candle to Mother Mary. Like, if a person has some problem in heart then he will present heart in the shape of a candle and if a person has some problem in liver then he will present the same form in wax. And when the diseased person is healed, they offer the healed body parts made up either of gold or silver. The Velankanni Church also has a museum where all the offerings of the followers of the Lady of Health are displayed.
The other names by which the shrine is also known as are 'Sacred Arogya Matha Church' and 'Lourdes of the East'. The church is the replica of the Basilica of Our Lady of Health at Velankanni. With its high rising towers, the church looks absolutely stunning even from far away. The architectural beauty coupled with the sanctity of the place makes for an experience of a life time.