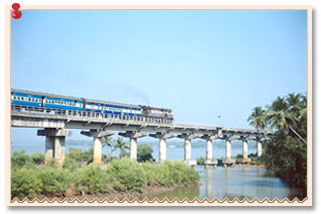 Located on the coast of Bay of Bengal in the Indian state of Tamil Nadu and being one of the four metropolitan cities of India, Chennai has a strong transport system. So, naturally, this cosmopolitan city is well connected by air, roads, railways and seas and is easy to reach from any part of the world. Travelling to Chennai, one has a lot of options. Ample number of flights from the country and abroad frequents the city daily. Railways too, connect Chennai to all major cities of India. It can also be reached via road, but the journey will be comfortable only if you are travelling from a neighbouring city or state. The following section will further explain the various networks through which you can reach the beautiful place.
By Air
The third busiest airport of India is the Chennai International Airport which is located at a distance of 7 km from the main city. Both, international and domestic flights land at different terminals: the international flights arrive at the Anna Terminal whereas the domestic flights at Kamaraj Terminal. These two terminals are located at a distance of only 150 metres from each other. Both the terminals are well connected to the major cities of India and the world, respectively.
Airport To City
Within a few rupees you can reach the city, but if you have rather bulky luggage look for other options like the pre-paid taxi booth. Each terminal has many booths for pre-paid taxis, made available by different companies. You can find it when you exit the airport. Fares may differ from company to company, although Fast Track a company has a fare of 500 rupees to reach the city centre in a Toyota Innova or equivalent. You can also hire auto rickshaws that will take you to your destination in Chennai at relatively low fares as compared to the taxis.
By Train
Chennai Central (code MAS) and Chennai Egmore (code MS) are the two main long distance train stations. There are daily trains from Chennai to
Bengaluru
, Mumbai, Coimbatore, Delhi,
Cochin
, Hyderabad Kolkata and most of the big cities of India. The Egmore station covers most of the places in Tamil Nadu and a few important places outside it. The long trains to Egmore stop at Tambaram and some at Perambur. These two stations serve the suburban areas of Chennai. Prepaid taxis, cabs auto rickshaws are available for hire just outside the station.
By Bus
One of Asia's largest bus stations is in Chennai, the CMBT. There are seven different state owned corporations which drive buses to and from various destinations within South India. There are hourly buses for places like Tirupati, Pondicherry, Coimbatore, Tirunelveli etc.
By Car
The city is very well connected to other parts of India by road. The five major national highways radiate toward Kolkata, Bengaluru, Tiruchy/Madurai, Tiruvallur and Pondicherry. Many car rental companies such as Clear Car Rental, Avis and Hertz provide various facilities to the costumers.