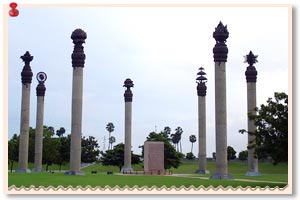 A war memorial is a building, monument or statue in order to commemorate those who passed away during a war. Earlier, the war memorials were erected to celebrate great victories, while remembering the dead were not so important. However, in modern times, war memorials are built to honour those who have died, and not mainly to glorify war. Now Chennai has been an administrative, political and military hub since the 1st Century and India is a land where martyrs, people, who readily laid down their lives to serve their motherland. To honour and to pay respect to these brave hearts, a war memorial is built so that the citizens may be proud of their heroes. Some of the war memorials of Chennai, which one should definitely see are:
The War Memorial Hall
The War Memorial Hall, situated on the Beach Road near the Island Ground, is built to pay respect to all those soldiers who gave their lives while fighting for the country's honour during the First World War.
Victory War Memorial
Victory War Memorial is dedicated to those soldiers who gave their life for the country. The Victory War Memorial is also known as 'Cupid Bow' is located near the Fort St. George on the Beach Road on the starting point of Marina beach. This War Memorial was constructed to commemorate the victory of the allied Armies in the World War I and a circular rock and marble structure have been built in memory of the soldiers, although, the memorial is known today in the memory of World War II soldiers.
Rajiv Gandhi Memorial
The Charismatic Rajiv Gandhi who was assassinated in the town of Sripermbudur was the then Prime Minister of our country. He was killed by a human bomb on 21st May 1991. The memorial located in the town where the leader was killed is called Sripermbudur, just 40 kilometres from Chennai. The memorial was dedicated in his memories on 10th October 2003 by the then President Dr. A.P.J. Abdul Kalam. The memorial reflects the reverence of the great leader. It consists of a square platform on which a raised platform is built. The platform is made of yellow marble stones and on the elevated platform there is a picture of Rajiv Gandhi, made of stone block of pink granite. The blast site is encircled with seven monumental pillars, each having a bronze capital on its top, and representing different concepts of Satya, Dharma, Vigyan, Nyaya, Shanti, Tyaga and Samrudhi. The pillars are engraved with quotations of Rajiv Gandhi on its base and are designed with different patterns of carving on each.