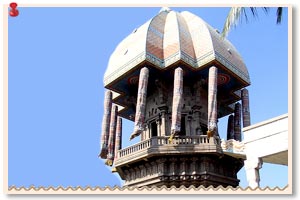 Chennai, the capital city of Tamil Nadu is one of the four leading metropolitan cities in India. It is famous for its cultural heritage, traditional temples, monuments and architectural designs. The ancient ruins and other historical sites depict the civilization and the historical past of the city. The Valluvar Kottam, located in Chennai, is one such historical monument which is dedicated to the well-known intellectual poet, philosopher and saint, Thiruvalluvar, who penned his well-known Thirukkural more than 2,000 years ago. All the 133 chapters of the Thirukkural comprise of 1330 verses.
It was built by M. Karunanidhi, the then Chief Minister of Tamil Nadu, dating back to 1975 – 1976. It stands on the place of a lake which was then used as a dumping ground for the garbage of the entire city. Later on, however, the land was reformed and was used to build the Valluvar Kottam. The construction of Valluvar Kottam was the finest way to pay homage to this great and renowned personality as well his tremendous collection of magnificent works. This is one of the significant sites located in Chennai and is visited by a large number of visitors, every year, from all over the world. In the cultural life of the Tamils, saint Thiruvalluvar has great significance.
The architectural pattern of the Valluvar Kottam is like a temple chariot (39 m high), inside which there is a huge stone effigy of the saint Thiruvalluvar. The architect under whose guidance the Valluvar Kottam was built is a South Indian architect, V. Ganapati Sthapati, who is also the architect of the statue of saint Thiruvalluvar, sited at Kanyakumari. The main auditorium of the Valluvar Kottam can provide accommodation to more than 4,000 people at one time and stands as a contemporary cenotaph to the great and distinguished poet and saint, who symbolizes the splendid culture of the Tamils.
A very unique feature of the Valluvar Kottam is that it stands baseless, without the support of any pillar. The 1330 verses of the epic Thirukkural are engraved on the granite columns in the facade hall corridors, enclosing the vast auditorium of the Valluvar Kottam. In the construction of this, about 3000 blocks of stone were used. The lion on the main gateway of the Kottam is very remarkable which decorated with attractive designs. The contribution of saint Thiruvalluvar in the Tamil Literature is very notable and admiring, visible through the affection returned to him by his fans through construction of this remarkable monument.