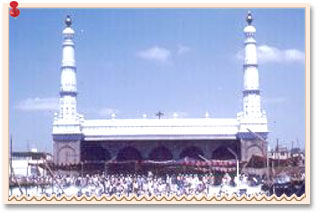 The Thousand Lights Mosque, a multi-domed mosque, located in Anna Salai in Chennai, is one of the largest mosques in the country and a revered place of worship for Muslims. It was built by Nawab Umdat-ul-Umrah in 1810. There is an interesting story behind the name of the mosque. It is said that 1000 lamps needed to be lit in order to illuminate the assembly hall. From this, it derived its name, Thousands Lights Mosque. However, there are others, who are of the belief that the lights were provided by the Indian National Congress to mark their first visit to the city of Madras. The mosque is a medieval architectural style building.
It has an exhilarating structure, with multi domes and spearing minarets. The average height of the minarets is around 64 feet above the ground. Another mosque was added in 1981, with two tall minarets and five inward curving domes showing modern West Asian influence. Besides, the mosque is adorned with the quotes from the holy book of Muslims, the Quran. There is a main hall at the ground floor that is used to offer prayers by men, while there is a separate room for women. There are two rooms on the second floor which are known as Bargah and represent the sanctuary. The Thousand Lights Mosque holds great importance for the Shiite Muslims and is a pilgrimage site for them.
The mosque is popular for a number of reasons, such as its name, its architecture and its historical and religious importance. In early 19th century, the place where the mosque presently stands used to be the assembly place of the Shiite Muslims, during the month of Muharram. Later, the assembly hall was built, following which the mosque was constructed. It is believed that the Shias who live in the Thousand Lights neighbourhood and Royapettah are the followers of the Ahl al-Bayt ("the People of the House"). The total area of the land, which was donated by Nawab Wallajah, occupied by the Thousand Lights Mosque is 3 acres. The descendent of the Wallajah faily made the hall in 1810, the family owned much of the property in the area for the Shia Muslims to assemble at Moharram
Today, the Thousand Lights Mosque is a common mosque for all Muslims, a primary holy place for Shias. Moharram is the most important day for them when Shias mourn for Imam Hussain and participate in Matam in mosques. It is a great scene during the annual Moharram festival. The old mosque is quiet impressive from the inside and very different from the grandeur of the new mosque. The mosque is also a home of Chief Shia Ghazi Moulana Ghulam Mahadi Khan of Tamil Nadu and a Shia burial ground is inside.