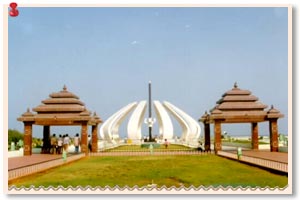 A well known memorial of a well known person, MGR Memorial House, in Chennai, is dedicated to MG Ramachandran, India's first actor to become a chief minister and that too for three consecutive terms until his death. Considered as one of the greatest political leaders and actors of the state, his followers idolize him as Puratchi Thalaivar (Revolutionary leader). He was posthumously honoured with Bharat Ratna, the highest civilian award of India.
The memorial house is situated at Arcrot Street, T. Nagar and was opened for public viewing in 1990 by Mrs Janaki Ramachandran in the presence of Dr. N.C Raghavachari, Shri N.P.V.Ramasamy Udayar and many well wishers of Late Dr. MGR. This was his official residence and was used by him for more than two decades. This memorial house is open for public viewing on all days except Tuesdays from 9:00 am to 5:00 pm.
The house has a green that comes into view as you enter the house. The songs featured in Late MGR's films playing in a low tune all along will infuse the atmosphere with the feeling of his olden and golden days of acting. There are a number of shields displayed in the reception which were presented to MGR. The first floor of the house has his office room where there are displayed his belongings and personal things which he used.
Things like the swords, spears, heavy wooden clubs used by him, his plate, tumbler, telephone instrument, his shirts and the medals won by him are also shown here. Apart from this, there are things like his Bharat Ratna medal, books read by him, camera, photographs taken from MGR's films, his letters, his famous cap and dark glasses and the certificate degree of his doctorate are all displayed here. However, due to lack of space, all of his photographs are not been exhibited.
People come to this memorial to see what all things belonged to him, to have a glimpse of his memory, so that they can remember him the way he was. The memorial house has no entrance fees as it is maintained by MGR Memorial Charitable Trust. For a MGR fan, the Galleries of MGR's films and photos displayed is something to be proud of.