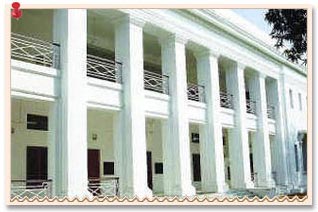 The indirect benefits the land of India received due to the influence of several emperors and countries are the mechanical improvements and the infrastructural developments that embraced the country to a great extent. The British colony, dominating the country for a significant long time, gifted it with several historic places which form the varied heritage of the country. South India, for an instance, has number of forts and mansions which the British built in their early days in India. One of such structures, the Freemasons Hall, was constructed at the Egmore area on the Commander-in-Chief Road of Chennai in 1923 to aid the military troops of the foreign power. The living legend of the cultural and traditional heritage of the people who inhabited the ancient city of Madras, the hall, is based upon the Greek pattern of engineering agreeably reflecting it through its four giant pillars, prolific utilisation of Italian tiles and marbles in its interiors.
One of the finest buildings of Tamil Nadu, the Freemasons Hall enjoys a locational advantage which makes it easily reachable from any corner of the city. Freemasons Hall is a double storey mansion and can accommodate around 200 people at a time. The small lodge room on the first floor is capable of accommodating 60 people at a time and is meant for holding Masonic meetings.
There is also a dining hall on the first floor which is approached by a winding staircase. This staircase is made up of Sholingar stones, with wrought iron and grill. The capacity of this dining hall allows maximum accommodation of about 150 people. The two lodge rooms are illuminated and ventilated with the help of huge windows, nearly 12 feet above the floor. The walls are decorated with Masonic emblems, which are formed by plaster and glided while the verandas are adorned with Italian tiles. Consequently, the Freemasons Hall is constructed keeping in mind all the modern day requirements and Indian climatic conditions. The process of renewal has resulted in reviving its shine and lustre which has fetched tourist's attraction to a great extent.