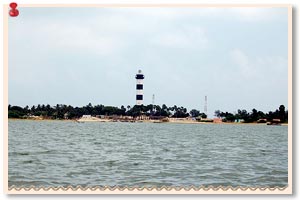 Pulicat is a small seashore township which offers an invigorating and thrilling experience of expedition. Sited on the barricade island of Sriharikota which divides the Pulicat Lake from the Bay of Bengal, it is located at a distance of 60 km from Chennai and 3 km from Elavur, It is the second leading brackish lagoon in India–covering a total area of 720 sq km of which 84% comes in Andhra Pradesh and 16% in Tamil Nadu–following the Chilka Lake in Orissa. It extends to a length of 60 km.
The major attractions of Pulicat are the beach, the Dutch cemetery and, particularly, the bird sanctuary. Every year between October and March, thousands of migratory birds can be observed here which turns into their dwelling place. Amongst these migrants, flamingos come in a large number and at that time is the main point of attraction. They cover the swampy region of the lake, giving it a touch of pink colour. Other birds which can be seen are ducks, herons, cranes and painted storks. In mid-December or the start of January, the Flamingo festival is organized by the Tourism Development Board every year. This is why, this place, also known as a haven for bird watching, with its captivating and magnificent views allures visitors from all over.
Other appealing sites include a Dutch Fort which was constructed in 1609 for the stay of Dutch army on the Coromandel Coast though later on, in 1825, it was conquered by the British. There is also a Church which was built by the Dutch but, today, only the ruins are left of both, the fort as well as the Church. On the opposite bank of the lake, there is a lighthouse of the ancient times. In addition to this, there is a cemetery which was structured in 1622 which is now under the department of Archaeological Survey of India. The huge mausoleums and graves emblazoned by Dutch, engraved with skeletons instead of the cross have been very well conserved. This place, famous for its historical past and natural magnificence, is visited every year by thousands of people. There are two other places of attraction which includes Vedurupattu and Nelapattu. Vedurupattu village is sited as of 10 km north of Sullurpeta, on the Nellore road. At this place, in every winter painted storks nest in the trees or the huts and to see them in their natural habitat is a refreshing experience.
In the village of Nelapattu of Nellore district, is the Nelapattu bird sanctuary which was founded in 1976. It is at a distance of 20 km from the Pulicat Bird Sanctuary. The huge fresh water tank and the 'Barringtonia acutangula' trees in a large number make this sanctuary a shelter for a huge number of varieties of birds that migrate here for breeding and roosting, including over 1,500 pelicans, making it one of the most prominent Pelicanaries in South East Asia. Several endangered species of birds including open-billed storks, grey pelicans, white ibis, little cormorants and night herons come here to breed. Besides this, wide range of birds such as ducks, egrets, tern, waders, etc. can also be spotted here easily. Another thrilling experience is provided by the forest region of the sanctuary which has mammals such as slender loris, jackals, spotted deer and reptiles including tortoise, snakes and monitor lizards. Thus, Pulicat and the places around it make the excursion exhilarating with a unique combination of historical relics and the natural beauty.