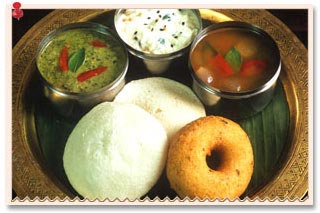 Chennai, the capital city of Tamil Nadu and an important part of South India is home to a potpourri of vegetarian as well as non-vegetarian cuisines and is famous for its exclusive food culture and traditional range of cuisine, which is known as the South Indian food. An actual South Indian person starts the day with a cup of hot filtered coffee, which is the signature beverage of the capital city, and also of the South Indian region. Rice is the staple food of South India and this is why most of the food items are made of rice: be it the breakfast, lunch, snacks or dinner.
In breakfast, people prefer to have
idli
(steamed rice cakes) or
dosa
along with coconut chutney or tomato chutney. Both these are made from a fine paste of rice and lentils. They also like to have upma (made of rava), idiyappam or vada. In lunch, there is a variety of food including steamed rice served with
sambar
, rasam, kootu, buttermilk, chutney and curry. The non-vegetarian meal includes curry or dish prepared by chicken, mutton or fish. However, the lunch is incomplete without pickle, salad and papad or appalam. In the evening snacks, they love to have chilly or onion pakoda, vada, murukku along with filtered coffee. In most of the food items, fresh or dried curry leaves are added for a special taste and aroma. It's used widely across all of South India.
The South Indian cuisine culture also includes multi-cuisines such as parota made of maida with kothu (minced veg), puliyodarai also known as puliyogare, thayir sadam, thogayal, appam, pongal, aviyal, etc. The famous sweet dishes of Chennai are payasam, kesari, sweet pongal, etc. Whereas, among the non-vegetarians, chettinad Pepper Chicken is very popular and is one of the best cuisines of the city. But what is most surprising to know is that the South Indian art of culinary is a blend of all six different tastes including sweet, salt, sour, bitter, pungent and astringent. Besides this, the traditional meal is served on the fresh banana leaf as it is believed from the ancient time that it removes toxins from the food and also because of a sacred belief linked with it. In most of the restaurants too, they put banana leaf on the plate before serving the food.
Undoubtedly, the food items served by the South Indian people of Chennai, together with the hospitality, are really very tempting and scrumptious. Thus, one can say that the South Indian savories are really a perfect treat for a hardcore foodie. Apart from the traditional cuisine, you will get a variety of food items from other parts of the country, including foreign cuisine. The mughlai cuisine, prepared in Tamil style, is also very appetizing and mouth-watering with an aroma of range of spices. In modern days, the traditional Tamil cuisine is fusing with a range of elements of different cuisines from other parts of India and foreign countries to make a new variety of delicious and tempting cuisine. When here, do, at least once, indulge in the local cuisines that are the pride of the city.