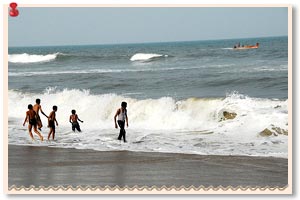 Sited towards the south of the Marina Beach, Elliot's Beach is among the cleanest beaches in Chennai, in fact, in the whole of south India. Also known as 'Bessei' among the inhabitants, it is a well-known place for relaxing and soaking in the sun. However, an array of exciting water sports for which Chennai is known are not provided here at the beach. That is not to say that it lesser of a beach when compared to others. There's a different kind of fun to be had here, fun which soothes up the mind and restores the soul. Sitting along the beach, you can sync in the surrounding natural beauty and gaze at the endless skies and sea. And if, looking at the sand, the architect in you suddenly awakens, don't curb your natural instinct to play with or build castles out of it.
Elliot Beach is one of the most significant landmarks as it also provides its visitors with a range of multi-cuisines together with an array of restaurants and fast food centres. You can savour the scrumptious and tempting South Indian snacks and coddle your taste buds as only some yards away from the sandy beach, you will find some of the famous restaurants which include Ponnuswamy restaurant, Karaikudi restaurant, Lee's Chinese restaurant and the New Shangri La, a Malaysian restaurant. No wonder, these days, it has become one of the best hangouts for the younger generation, as well as foreigners who are looking for some quietude and tummy fulfilment.
It doesn't end here though, for the beach goes a few steps ahead, surpassing all expectations and surprising yet again, with a unique combination of historical temples, churches and monuments which makes this place even more fascinating and magnificent, adding charm and beauty to your outing with exciting memories. At the southern end of the beach, is the famous Velankanni Church which was built in the honour of the Lady of Health, also famous as Madonna of Velankanni. It is also believed by the followers that the Lady of Health holds miraculous powers.
Another site of attraction is the Ashtalakshmi Temple, located on the southern end of the beach. It is dedicated to the eight manifestations of the Goddess Mahalakshmi, also known as the Deity of Wealth and Peace. Besides this, there are temples of Tumbikai Aazhwar (Ganesha), Guruvaayurappan, Chakrathaazhwar & Narasimhar (on either side of the same idol), Aanjaneyar & Dhanvantri. Apart from this, there is a stone monument sited on the Elliot's Beach constructed as a mark of honour to a Danish sailor, Karl Schmidt who died at the time of saving a man from drowning. Situated just 60 km from Chennai and easily accessible via road with buses, taxis, call cabs, and auto rickshaws at your service.