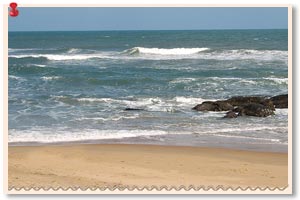 Covelong Beach, sited on the way to Mahabalipuram, has transmogrified into an exclusive, classy beach resort. It is located on the Coromandel Coast of Bay of Bengal, where the shining sun, calm sea and shimmering sand form a unique aura of cheerfulness and magnetism. Its surroundings too, enthralling and pleasing, provides people with inner peace and happiness, away from the hustle and bustle of a routine. Flanked by attractive and uplifting palm trees and glittering white sand with fascinating and colourful sea-shells, the picturesque beauty of this place makes it a well-known tourist destination and thus, every year, a large number of people comes to visit and enjoy their holidays on Covelong Beach.
On this beach, both, the sea and the surf are very calm and gentle. Along with the beauty of the natural beauty of the beach, which allures visitors from all over the world, the effervescent village of Covelong too, famous for its fishing activities, draws an astonishing number of people. Whereas, an excellent world of water sports including swimming, water surfing and many other exciting water games entices thrill seekers to come and have a party of their own. Besides this, the beach is embellished with an ancient Catholic Church; ruins, in the form of walls of a Dutch fort from the time gone by; and many other churches, mosques, forts, etc that depict the history of the city. After coming to this place, you will feel the history; tranquillity and the positive energy captivate your body and soul, and unwilling to leave.
Also, near the Covelong Beach, at a distance of 19 km, there is a place called Mahabalipuram, which has exclusive shore temples from the 7th century, the carvings and architectural designs of which are really fascinating. Apart from this, there is a Crocodile Farm, which is a huge place for reptiles breeding. Here you can closely observe crocodiles living in their homely environment. This captivating spot is very well-connected and easily accessible from the capital city of Tamil Nadu. You can reach there either by train, bus or by hiring a taxi. Apart from this, you can also go to this place by boat, along the seashore of Chennai or Chengalpattu. During your visit to South India, don't miss to visit this Covelong beach and to enjoy and collect some of the unforgettable memories.